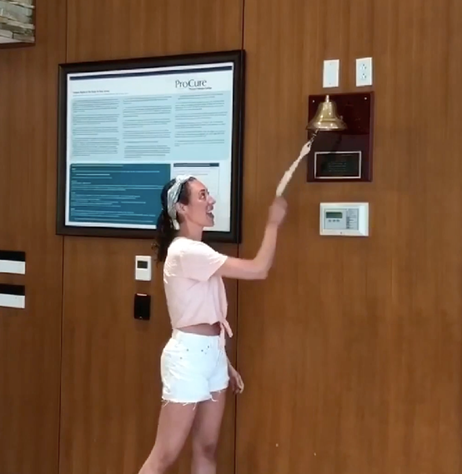 Kristen
Diagnosed with a Brain Tumor
When 27-year-old Kristen went to the emergency room for a headache and vomiting, she initially thought she had an intense migraine or stomach virus. She was sent home with anti-nausea medication and told to hydrate and rest. However, a week passed, and her symptoms intensified to the point that she developed goosebumps, full-body shaking, and difficulty reading or speaking. After numerous episodes like this and no improvement, Kristen was referred to a primary care physician. She was so weak and unstable on her way to the appointment that her roommate had to hold her up to assist her. Seeing Kristen and realizing the seriousness of her condition, her primary care physician immediately sent her back to the emergency room.
After an MRI, Kristen was shocked to learn that she had a brain tumor, which had likely been growing for years (Stage II). Immediately, her life became a whirlwind of activity. Just four days after her diagnosis, she had to have emergency surgery to remove half of the tumor and spent 10 days in an inpatient rehab facility.
For further radiation treatment, Kristen's oncologist recommended proton therapy because of the procedure's precision and reduction in long-term side effects, an important benefit given her young age. For six weeks, Kristen was treated with proton therapy at ProCure Proton Therapy Center in Somerset, NJ.
Rather than become discouraged by her diagnosis, Kristen used it as motivation—publishing a book detailing her experience and offering strength and advice to other cancer patients. Kristen credits her supportive family, especially her mother, and her daily fitness routine with helping her keep up a positive mindset throughout treatment. While undergoing proton therapy Kristen went to the gym every day to maintain her strength, both physically and mentally.
For others diagnosed with cancer, she advises, "Don't let cancer pause your entire life. Live life day-by-day and look for ways to keep doing the things that you love during treatment."