proton beam therapy for prostate cancer
Request a consultation about proton therapy cancer treatment
To learn more about proton therapy or to schedule a consult, please fill out the form below and someone will contact you to answer your questions.
What is Proton Therapy for Prostate Cancer?
Target Prostate Cancer. Maintain Quality of Life.
Proton therapy is one of the most advanced forms of radiation therapy. Proton therapy delivers less radiation to the rectum and bladder when compared to other treatments, such as Cyberknife for prostate cancer and is a highly effective treatment with a much lower risk of short and long-term side effects.
Radiation stops
at the tumor and
does not exit
the body
Treating Prostate Cancer with Proton Therapy in New Jersey
With the cutting-edge science of proton therapy, doctors can precisely target the tumor while minimizing damage to surrounding healthy tissue and organs. Unlike standard X-ray radiation including Cyberknife, which relies on photons to reach cancer cells, protons deposit their radiation directly into the tumor and then stop. With no exit dose, radiation exposure is reduced with proton therapy and patients are able to maintain their quality of life both during and after treatment.
Non-Invasive vs. Invasive Treatments
PROTON THERAPY
NON-INVASIVE
Not entering or penetrating the body or disturbing body tissue. Not tending to infiltrate and destroy healthy tissue.


BRACHYTHERAPY
INVASIVE
Requiring the entry of a needle, catheter, or other instrument into a part of the body in a surgical procedure.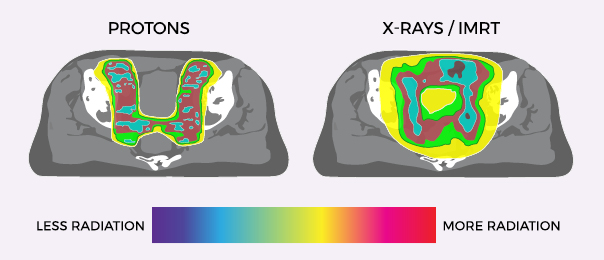 Proton Therapy vs X-Ray/IMRT for Prostate Cancer
Proton therapy delivers significantly less radiation to the bladder and rectum than X-ray radiation. These images show the areas around the prostate exposed to radiation during treatment. Where standard X-ray treatment releases radiation from the moment it penetrates the skin and all the way through to the other side of the tumor, proton therapy deposits radiation directly into the tumor without exiting through surrounding healthy tissue.
In most cases, patients can go about their normal routine before and after each treatment.
By minimizing excess radiation to unaffected areas, the likelihood of debilitating side effects like gastrointestinal issues, incontinence, and impotence, is significantly reduced. Clinical studies show that proton therapy, when compared to X-ray based treatments including Cyberknife, results in up to 60% less radiation to the rectum, bladder and bowel.
Overall quality of life after treatment