pediatric proton therapy
Request a consultation about Proton Therapy Cancer treatment
To learn more about proton therapy or to schedule a consult, please fill out the form below and someone will contact you to answer your questions.
Proton Therapy for Pediatric Cancers
The Powerful Protection of Proton Therapy
Non-invasive and ultra-precise, proton therapy is proven to be a powerful weapon in a child's fight against cancer. Proton therapy delivers radiation directly into the tumor, sparing harmful excess radiation to surrounding healthy tissue and organs.
The pinpoint accuracy of proton therapy is extremely valuable for children and teens given they are still developing and more sensitive to the effects of conventional radiation exposure. Proton therapy's precise, controlled radiation doses lead to fewer short-term side effects during treatment and drastically reduces the risk of long-term side effects later in the child's life.
Treating Pediatric Cancer with Proton Therapy
Children and teens require a cancer treatment that accommodates and adapts to their growing bodies. At ProCure, our leading team of experts works closely with patients, parents, and their wider care team to tailor a treatment plan unique to each child's needs.
With the power of proton therapy, our doctors deposit highly controlled radiation doses directly into the child's tumor, avoiding surrounding critical structures and vital organs. In contrast, conventional X-ray radiation passes right through the body, penetrating well beyond tumors and exposing healthy tissue to unnecessary, harmful radiation beyond the affected area.1,2
Proton therapy's millimeter accuracy is especially advantageous for children and teens, who are much more susceptible to the damage caused by traditional X-ray radiation. With excess radiation minimized in proton therapy, pediatric patients are less likely to experience radiation-induced secondary cancers, cognitive impairment, developmental abnormalities, and growth delay. They can also complete treatment with fewer immediate side effects, enabling them to remain active and maintain their usual activities during treatment.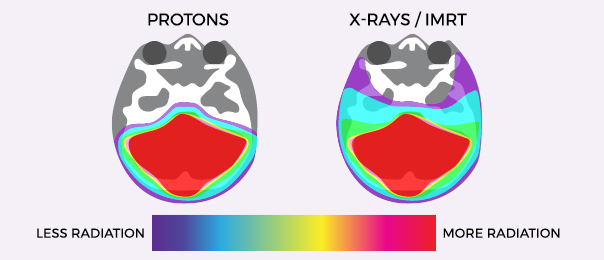 Proton Therapy vs X-Ray/IMRT for Pediatric Cancer
Proton therapy delivers less radiation to healthy organs than X-ray radiation, reducing the likelihood of side effects. These images show the areas of the brain exposed to radiation during treatment. Where standard X-ray treatment releases radiation from the moment it penetrates the skin and all the way through to the other side of the tumor, proton therapy deposits radiation directly into the tumor without exiting through surrounding healthy issue.
Pencil Beam Scanning
ProCure uses the most precise form of proton therapy to treat pediatric cancers. Pencil Beam Scanning precisely controls protons to place the Bragg Peak, the point at which protons deposit their maximum energy, directly into the tumor. The acute precision of this technology makes it an ideal treatment for pediatric cancers, including irregularly shaped or complex tumors located next to critical tissues and organs.
Benefits of Proton Therapy for Pediatric Cancers
Precisely targets the tumor, maximizing the radiation dose to cancer cells
No exit dose minimizes radiation exposure, sparing surrounding healthy tissue and critical organs such as the brain, head, neck, spinal cord, heart, lungs, bowel, and other normal tissues1-4
Lower risk of side effects such as cognitive impairment, developmental abnormalities, hormonal issues, and stunted growth
FDA-approved treatment
Lower occurrence of radiation-induced secondary cancer
Utmost precision enables the most complex and irregularly-shaped tumors to be treated with greater accuracy
Effective option for recurrent tumors, even in pediatric patients who have already received conventional radiation therapy
Can be used in conjunction with other treatments such as surgery and chemotherapy
Is Proton Therapy Right for My Child?
Proton therapy is often the preferred option for treating solid tumors in children. Protons can be precisely controlled to target the tumor and reduce radiation exposure to healthy tissue, preventing serious complications and reducing the risk of secondary tumors.1,3
The pediatric cancer tumors most appropriate for proton therapy include:
Craniopharyngioma
Ewing's sarcoma
Ependymoma
Medulloblastoma
Neuroblastoma
Rhabdomyosarcoma
Retinoblastoma
Hodgkin's disease
Osteosarcoma
Optic nerve meningioma
Gliomas/astrocytoma
Base of skull tumors:
If you are interested in proton therapy as a treatment option for your child, call us to schedule a consultation and learn more about the many benefits of proton therapy for pediatric cancer. Our radiation oncologists are here to help you and your child with your treatment decisions.
Pediatric Cancers Treatment FAQs
There is currently one trial for pediatric cancer underway at ProCure:
– A multi-center registry of pediatric patients treated with proton therapy that compares the effects of chemotherapy in combination with hypofractionated proton radiation therapy.
For more information about this trial, please see Clinical Trials or contact the center.
Find out if proton therapy is the right treatment for you. Contact our Care Team or request more information online.
Learn more about proton therapy and our world-class Care Team. Contact the center to reserve your place.