proton therapy lung cancer
Request a consultation about Proton Therapy Cancer treatment
To learn more about proton therapy or to schedule a consult, please fill out the form below and someone will contact you to answer your questions.
Proton Therapy for Lung Cancer
Powerful Treatment With Pinpoint Accuracy
With the utmost precision, our expert physicians target lung cancer with powerful protons while sparing nearby healthy tissues and organs from unwanted radiation.
As one of the most advanced forms of radiation therapy available, proton therapy dramatically reduces radiation exposure to surrounding vital organs and lowers the occurrence of side effects. Where standard X-ray radiation can irradiate the heart, esophagus, and spinal cord in the process of radiating the tumor, proton therapy deposits radiation directly into the tumor without exiting through healthy tissue.
Treating Lung Cancer with Proton Therapy
Conventional X-ray radiation and proton therapy both destroy cancer cells by preventing them from dividing and growing. But it is the unique properties of protons – positively charged atomic articles – that allow our radiation oncologists to selectively target tumors of the lung and limit excess radiation exposure.
With proton therapy, a higher radiation dosage can be controlled and deposited directly into the tumor site while protecting surrounding healthy tissue. This precision is particularly important for lung cancer given the tumor's close proximity to critical and sensitive structures, such as the esophagus, heart, spinal cord, and healthy lung.
The precise quality of proton therapy means treatment is less invasive with a lower risk of side effects, such as pneumonitis and esophagitis, and lower odds of secondary cancers. With less side effects both during and after treatment, patients can continue to enjoy their usual activities with little interruption.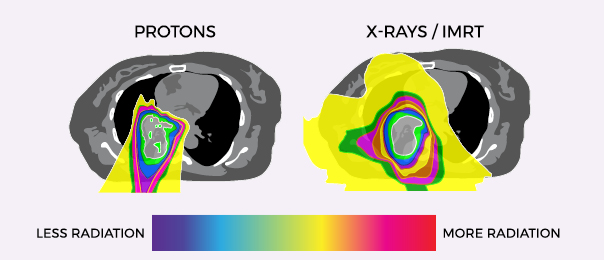 Proton Therapy vs X-Ray/IMRT for Lung Cancer
Proton Therapy delivers less radiation to the lungs and other nearby organs than X-ray radiation. These images show the areas of the body exposed to radiation during treatment. Where standard X-ray radiation releases radiation from the moment it penetrates the skin and all the way through to the other side of the tumor, proton therapy deposits radiation directly into the tumor without exiting through surrounding healthy issue.
Benefits of Proton Therapy for Lung Cancer
Ultra-precise treatment delivers radiation directly into the tumor, maximizing the dose to lung cancer cells
No exit dose minimizes radiation exposure to nearby healthy tissues and critical organs, including the heart, spinal cord, esophagus, and healthy lung
More radiation directly to the tumor improves outcomes for lung cancer patients1
As effective as conventional X-ray radiation (3D-CRT and IMRT) with lower side effects such as pneumonitis (inflammation of the lung), pericarditis (inflammation of the heart) and esophagitis (inflammation of the esophagus)
Can be used as a follow-up to surgery or chemotherapy
Minimally invasive treatments allow patients to maintain their quality of life both during and after treatment
FDA-approved treatment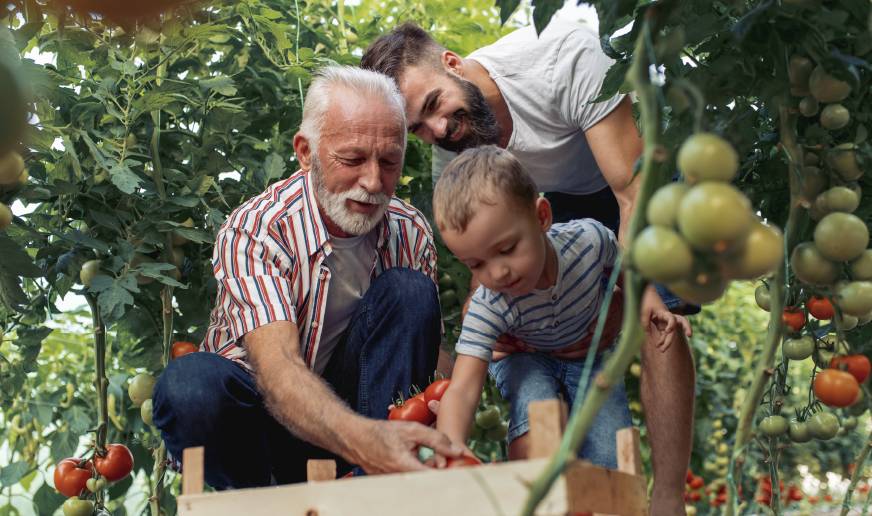 Studies show that proton therapy is as effective as X-ray radiation in treating non-small cell lung cancer (NSCLC) and can reduce side effects such as pneumonitis, pericarditis, and esophagitis (inflammations of the lungs, heart, and esophagus).2
Is Proton Therapy Right for Me?
Many patients with stage I, II or III non-small cell lung cancer (NSCLC) and certain stages of small cell lung cancer (SCLC) are good candidates for proton therapy.
Proton therapy may be an especially good treatment option for you if:
your tumor is near critical structures such as the spine, heart and esophagus
you need concurrent chemotherapy with reduced radiation to bone marrow
have had prior radiation therapy
have limited or poor pulmonary function due to COPD, prior smoking history, or other medical conditions.
If you are interested in proton therapy as a treatment option, we can schedule a consultation with one of our radiation oncologists to determine if you are likely to benefit from proton therapy. Please call us for more information.
Lung Cancer Treatment FAQs
Currently, there is one clinical trial for lung cancer underway at ProCure:
A phase I/II study that compares the effects on subjects and their cancer using standard chemotherapy in combination with hypofractionated proton radiation therapy for stage II-III Non-Small Cell Lung Cancer (NSCLC). Hypofractionation is a technique that delivers higher daily doses of radiation over a shorter period of time.
For more information, please see Clinical Trials or contact the center.
Find out if proton therapy is the right treatment for you. Contact our Care Team or request more information online.
Learn more about proton therapy and our world-class Care Team. Contact the center to reserve your place.