long term side effects of radiation to the spine
Request a consultation about proton therapy cancer treatment
To learn more about proton therapy or to schedule a consult, please fill out the form below and someone will contact you to answer your questions.
Proton Therapy for Tumors Near the Spine
Maximum Precision. Minimal Risk.
Proton therapy is an advanced and highly precise form of radiation treatment that effectively treats spinal tumors while also greatly reducing the risk of short and long-term side effects.
By targeting the only tumor, proton therapy minimizes excess radiation to surrounding organs and healthy tissue. Unlike standard X-ray radiation, which relies on photons to reach cancer cells, protons are deposited directly into the tumor and then stop. With no exit dose in proton therapy, radiation exposure is drastically reduced and patients are able to maintain their quality of life both during and after treatment.
Treating Tumors Near The Spine With Proton Therapy
Spinal tumors can be especially challenging to treat due to their proximity to the central nervous system. It is particularly important to limit excess radiation to surrounding healthy tissue in order to avoid the risk of long-term and potentially life-threatening side effects such as motor impairment or paralysis. Through the use of Pencil Beam Scanning, a highly sophisticated form of proton therapy, radiation is delivered into the tumor layer by layer with millimeter precision, which offers higher chances of controlling the tumor, and minimizes damage to nerves that affect your ability to feel and move.
Unlike standard X-ray radiation, proton therapy is less invasive with much lower risk of side effects such as fatigue, nausea, and breathing difficulties due to radiation exposure to the lungs. The reduction of radiation-related toxicity also increases the likelihood that patients can complete treatment with fewer interruptions or delays, as well as lowers the odds of secondary cancers.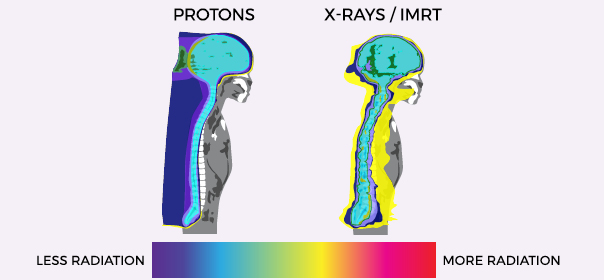 Proton Therapy vs X-ray/IMRT for Tumors Near The Spine
Proton therapy delivers less radiation to the lungs and other nearby organs than X-ray radiation. These images show the areas around the spine exposed to radiation during treatment. Where standard X-ray treatment releases radiation from the moment it penetrates the skin and all the way through to the other side of the tumor, proton therapy deposits radiation directly into the tumor without exiting through surrounding healthy tissue.
Benefits of Proton Therapy for Tumors Near The Spine
Precisely targets the tumor, maximizing the dose to cancer cells
No exit dose results in lower radiation exposure to surrounding healthy tissue and critical organs, including the nerves that affect vision, hearing, and motor skills
Lower risk of side effects, such as nausea, vomiting, and fatigue, and better protection of the central nervous system
Patients can maintain quality of life during and after spinal cancer treatment
Effective option for recurrent cancers in patients who previously received radiation therapy
Reduced risk of secondary cancer due to radiation
FDA approved treatment
Is Proton Therapy Right for Me?
Most patients with spinal tumors are good candidates for proton therapy. At ProCure, the tumors we treat include:
Ependymomas
Chondrosarcomas
Sarcomas
Desmoid tumors
Chordomas
Recurrent spine tumors (previously treated)
To find out if you might benefit from proton therapy, call us to schedule a consultation. Our radiation oncologists are here to help you determine a course of treatment that is right for you.
Tumors Near The Spine Treatment FAQs
Find out if proton therapy is the right treatment for you. Contact our Care Team or request more information online.
Learn more about proton therapy and our world-class Care Team. Contact the center to reserve your place.