Head & Neck Tumors
Find Your Answer Here
search

Proton Therapy for Head & Neck Tumors
Target Tumors. Protect Healthy Tissue.
Non-invasive and precise, proton therapy is an advanced radiation treatment that targets head and neck tumors with laser-like accuracy.
Using the precise power of protons, our expert team delivers radiation directly into the tumor at exact depths, sparing surrounding healthy tissue and critical structures from harmful radiation. This leads to substantially less damage to surrounding vital organs and fewer side effects during and after treatment.
Treating Head and Neck Tumors With Proton Therapy
Where standard X-ray radiation releases its maximum dose of radiation as soon as it penetrates the skin and continues to release it as it passes beyond the tumor, proton therapy releases its maximum dose directly within the tumor and then stops.
This precision is particularly important for head and neck tumors given their proximity to critical and sensitive structures, such as the brain, optic nerve, thyroid, salivary glands, esophagus, voice box, jawbone, and spinal cord.
Compared to conventional X-ray radiation, proton therapy drastically reduces damage to tissues and organs near head and neck tumors1,2,3, including those responsible for hearing, sight, taste, talking, eating, and swallowing. Proton therapy also reduces the likelihood of short and long-term side effects, enabling patients to maintain their quality of life with little interruption.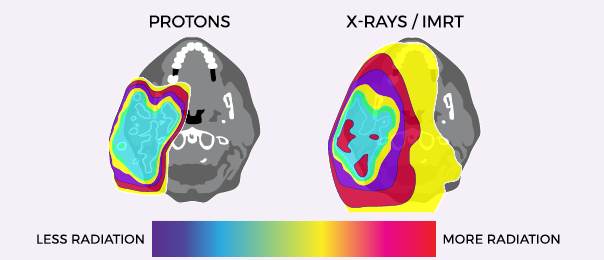 Proton Therapy vs X-Ray/IMRT for Head and Neck Tumors
Proton therapy delivers significantly less radiation to the spinal cord than X-ray radiation. These images show the areas of the head and neck exposed to radiation during treatment. Where standard X-ray treatment releases radiation from the moment it penetrates the skin and all the way through to the other side of the tumor, proton therapy deposits radiation directly into the tumor without exiting through surrounding healthy issue.
Benefits of Proton Therapy for Head & Neck Tumors
Precisely targets the tumor, maximizing the dose to cancer cells
No exit dose results in lower radiation exposure to surrounding healthy tissue and critical organs, including the eyes, optic nerve, salivary glands, thyroid, esophagus, voice box, jawbone, brain, and spinal cord
Lower risk of side effects, such as dry mouth, difficulty swallowing, and change in taste, and better protection of essential functions such as sight, hearing, and talking
Pencil Beam Scanning offers the highest precision targeting for complex cases
Patients can maintain quality of life during and after treatment
Effective option for recurrent cancers in patients who previously received radiation therapy
Reduced odds of secondary cancers
FDA approved treatment
Is Proton Therapy Right For Me?
Most patients with head and neck tumors are good candidates for proton therapy. At ProCure, the tumors we treat include:
Nasopharynx (back of the nose where it meets the throat)

Nasal (nose) cavity

Paranasal sinuses (sinuses surrounding the nasal cavity)

Oropharynx (area of the throat at the back of the mouth), including the tonsils and base of tongue

Larynx cancer (voice box)

Oral and mouth cancers

Throat cancer

Tongue cancer

Thyroid cancer

Salivary gland cancer

Hypopharyngeal cancer

Recurrent head & neck cancers (previously treated)
To find out if you might benefit from proton therapy, call us to schedule a consultation. Our radiation oncologists are here to help you determine a course of treatment that is right for you.
Head & Neck Tumor Treatment FAQs
Proton therapy and X-ray radiation therapy both treat head and neck tumors by killing cancer cells when they attempt to divide and multiply. However, there is an important difference. X-ray radiation releases its maximum dose of radiation quickly after penetrating the skin and continues to release radiation as it passes through your body beyond the tumor, exposing more tissue to unwanted radiation and potentially causing more damage to healthy tissue and organs. Proton therapy delivers most of the radiation exactly at the tumor site and then stops. There is essentially no radiation exposure beyond the tumor site once the radiation has reached and covered the treatment area. This allows proton radiation to target the tumor while reducing damage to surrounding healthy tissue.
There are a number of studies that show proton therapy is an effective treatment for head and neck tumors. These studies can be found in our Research page.
Many patients with head and neck tumors are good candidates for proton therapy. If you would like to better understand proton therapy, we can schedule a consultation with a radiation oncologist. During the consultation, the radiation oncologist will discuss different treatment options with you and determine if you are likely to benefit from proton therapy. The radiation oncologists at ProCure use various forms of radiation to treat cancer in addition to proton therapy, so they will provide you with a treatment recommendation for your consideration. For more information, please call us or Request More Information online.
Find out if proton therapy is the right treatment for you. Contact our Care Team or request more information online.
Learn more about proton therapy and our world-class Care Team. Contact the center to reserve your place.