proton therapy for breast cancer
Request a consultation about Proton Therapy Cancer treatment
To learn more about proton therapy or to schedule a consult, please fill out the form below and someone will contact you to answer your questions.
Proton Therapy for Breast Cancer
Precision treatment. Vital protection.
With laser-like accuracy, proton therapy precisely targets breast cancer while sparing surrounding healthy tissue and vital organs, including the heart and lungs.
One of the first to use proton therapy for patients with breast cancer, ProCure is here to help fight breast cancer with a powerful, non-invasive treatment that significantly reduces the risk of side effects.
Treating Breast Cancer with Proton Therapy
Proton therapy is a highly precise treatment for breast cancer that delivers radiation directly into the tumor and stops. Radiation exposure to surrounding healthy tissue and organs is minimized, and the risk of short and long-term side effects is drastically reduced.
Where standard X-ray radiation therapy releases the maximum dose of radiation as soon as it penetrates the skin and continues to release it as it passes through the body beyond the tumor, proton therapy targets only the tumor. Healthy tissue is therefore spared from unwanted radiation.
This precision is especially crucial for the breast region due to its proximity to many vital organs, including the heart and the lungs. Because proton therapy is so precise, higher doses of radiation can be deposited into the tumor while reducing the potential for damage. This results in much less disruption to the patient, with many able to continue with their usual daily activities during treatment. It also lessens the risk of long-term side effects and recurring cancers.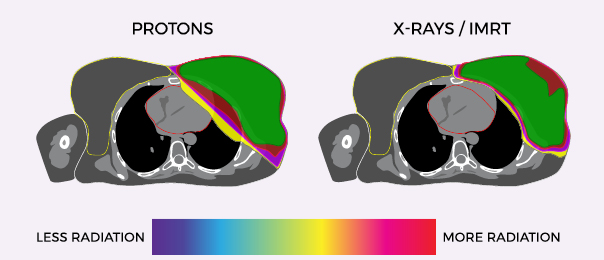 Proton Therapy vs X-Ray/IMRT for Breast Cancer
Proton therapy spares more surrounding structures than conventional radiotherapy, including the heart, coronary arteries, lung, and contralateral breast. These images show the areas of the body exposed to radiation during treatment. Where standard X-ray treatment releases radiation from the moment it penetrates the skin and all the way through to the other side of the tumor, proton therapy deposits radiation directly into the tumor without exiting through surrounding healthy issue.
Benefits of Proton Therapy for Breast Cancer
Precisely targets the tumor, maximizing the dose to breast cancer cells
No exist dose results in lower radiation exposure to surrounding healthy tissues and critical organs
Ultra-precision makes it highly beneficial for those diagnosed with left-sided breast cancer due to the close proximity to heart and lungs
Lower occurrence of cardiovascular diseases compared to conventional radiation treatment
Patients can maintain quality of life during and after treatment
Ideal for patients who have undergone breast-conserving surgery or mastectomy
Effective option for recurrent tumors, even in patients who have already received traditional forms of radiation
Can be used in conjunction with surgery and chemotherapy
Reduced odds of recurring and secondary cancers
FDA-approved treatment
Is Proton Therapy Right For Me?
At ProCure, we treat non-metastatic breast cancers that are stages I—III.
Proton therapy may benefit you if you: 
Have non-metastatic breast cancer
Have other risk factors that indicate a need for lymph node irradiation
Will be receiving cardiotoxic chemotherapy
Have pre-existing vascular comorbidity, cardiac disease or lung disease
Have an anatomy that places normal organs at elevated risk of radiation exposure
Both patients with early stage breast cancer or locally advanced, stage III, left-sided breast cancer who have undergone either breast-conserving surgery or mastectomy may be very well treated with proton therapy.
Even if these characteristics don't appear to fit your situation, you may still benefit from proton therapy. If you are interested in proton therapy as a treatment option, we can schedule a consultation to determine if you are likely to benefit from proton therapy. Please call us for more information.
Breast Cancer Treatment FAQs
Currently there are two trials for breast cancer underway at ProCure:

A phase II, prospective, randomized trial comparing the effects on women with early stage breast cancer using proton radiation therapy.

A phase II multi-institutional study conducted by the Proton Collaborative Group (PCG) to look at the rates of acute and long-term adverse events of postoperative proton radiotherapy for loco-regional irradiation in women with localized breast cancer. This study specifically includes follow-up at 10 and 15 years following proton therapy to assess the incidence of cardiac mortality and second malignant neoplasms.
For more information, please see Clinical Trials or contact the center.
Breast Cancer Facts
The most common symptom of breast cancer is a new lump or mass. A painless, hard mass that has irregular edges is more likely to be cancerous, but breast cancers can also be tender, soft or rounded.
Other potential symptoms include:7
Swelling of all or part of a breast (even where no distinct lump is felt)

Skin irritation or dimpling

Breast or nipple pain

Nipple retraction (turning inward)

Redness, scaliness or thickening of the nipple or breast skin

Nipple discharge (other than breast milk)
It is important to have any new breast change checked by a health care professional experienced in diagnosing breast diseases.
Average risk:8
Gender. Being a woman is the primary risk factor. Women are 100 times more likely than men to develop the disease. 
Age. The risk of developing breast cancer increases with age. Most are found in women over 55.
Menstrual history. Women who started menstruating before age 12 and/or went through menopause after age 55 are at a higher higher risk for developing breast cancer.
Race and ethnicity. White women are slightly more likely to develop breast cancer than African-American women. But among women under 45 years of age, breast cancer is more common in African-American women.
Dense breast tissue. Although not abnormal, breasts with a lot of glandular or fibrous tissue are considered dense on mammograms and such dense tissue is linked to an increased breast cancer risk.
Having children.

 

Women who have had no children or who had their first child after age 30 have a slightly higher breast cancer risk overall.
Oral contraceptives. Oral contraceptive use is linked to a slightly higher risk of breast cancer.
Hormone replacement therapy. Use of combined estrogen/progesterone hormone therapy after menopause increases the risk for breast cancer.
Alcohol consumption. The risk of breast cancer increases with the consumption of alcohol.
Weight. Being overweight or obese after menopause may increase breast cancer risk.
High risk:
Genetic factors. Between 5 to 10 percent of breast cancer cases are believed to be hereditary. That means they result from gene mutations inherited from a parent. The most common is a mutation in the BRCA1 and BRCA2 genes.
Family history. Having one first-degree relative (mother, sister, or daughter) with breast cancer nearly doubles a woman's risk of developing the disease. Having two first-degree relatives nearly triples her risk.
Personal history. A woman with cancer in one breast has a higher risk of developing a new cancer in the other breast or in another part of the same breast.
Previous chest radiation.

 

Women who, as children or young adults, had radiation therapy to the chest area have a significantly increased risk for breast cancer.
Diethylstilbestrol (DES) exposure. Women who received, or whose mother's received DES, have a higher risk of developing breast cancer.
Rare disorders. Women with Li-Fraumeni syndrome, Cowden syndrome, or Bannayan-Riley-Ruvalcaba syndrome – or have a first-degree relative with one of these syndromes is at a higher risk.
Regular screening is the best way to detect breast cancer early, when the treatment needed is likely to be less aggressive and more successful.
The American Cancer Society's current Breast Cancer Screening Guidelines recommend the following screening frequencies.9
Women with average risk:
Between 40 and 44 should have the option to have annual breast cancer screening with mammograms.
55 and older should get mammograms each year.
55 and older can opt to have mammograms every other year, and continue screening as long as they are in good health and are expected to live at least 10 more years.
Women at high risk:
Due to family or personal history, genetic tendency, or other risk factors should be screened with mammogram and MRI each year starting at 30.
Talk with your health care provider about your risk for breast cancer and the best screening plan for you.
Find out if proton therapy is the right treatment for you. Contact our Care Team or request more information online.
Learn more about proton therapy and our world-class Care Team. Contact the center to reserve your place.