Melanoma of the eye
Find Your Answer Here
search

Proton Therapy for Melanoma of The Eye
Carefully Controlled. Powerfully Precise.
Proton therapy is a highly accurate and innovative means of radiation treatment that works to destroy melanoma of the eye with pinpoint precision, achieved using ultra-narrow proton beam scanning technology.
Treating Melanoma Of The Eye With Proton Therapy
We selectively target the melanoma and deposit an optimal dose of protons directly into the tumor site, minimizing the amount of excess radiation to surrounding healthy tissue and structures, including the retina, cornea, lens, fovea, optic nerve, and brain. By attacking the tumor directly, risks of major side effects such as vision impairment and optic nerve damage, as well as the need for eye removal, are drastically lowered both during and after treatment.
When treating melanoma of the eye, it is important to deliver a carefully controlled dose of radiation as the eyes are surrounded by delicate structures and vulnerable tissue. This makes proton therapy ideal for ocular tumors as it offers the most precise tumor control, eye preservation, and low risk of radiation damage to healthy tissue around the eye. Unlike surgery, proton therapy allows most patients to successfully retain the affected eye as well as their vision, greatly reducing the long-term risk of permanent blindness.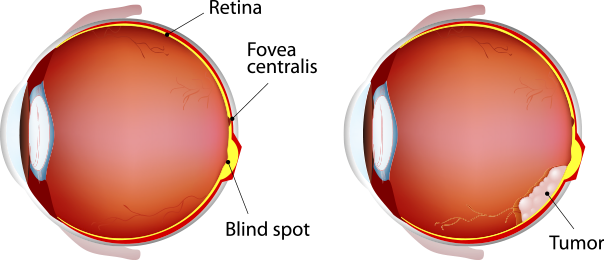 Proton Therapy vs X-Ray/IMRT
Proton therapy precisely targets tumors, reducing the radiation dose to nearby critical organs and tissue compared with X-ray radiation. This image shows the release of proton radiation into the tumor versus X-ray radiation. Where standard X-ray treatment releases radiation from the moment it penetrates the skin and all the way through to the other side of the tumor, proton therapy deposits radiation directly into the tumor without exiting through surrounding healthy issue.
Benefits of Proton Therapy for Melanoma Of The Eye
Precisely targets the melanoma, maximizing the direct dose of radiation to cancer cells while preserving the affected eye
No exit dose results in reduced radiation exposure to surrounding healthy tissue and organs, including critical eye structures, optic nerves, and the brain
Lower risk of side effects, such as loss of vision and optic nerve damage, and better protection of the brain
Pencil Beam Scanning offers the highest precision targeting for complex cases
Patients can maintain quality of life during and after treatment
Effective option for recurrent cancers in patients who previously received radiation therapy
Reduced odds of secondary cancers
FDA approved treatment
Is Proton Therapy Right for Me?
Depending on tumor size and location within the eye, many patients with melanoma of the eye are good candidates for proton therapy.
As proton therapy is more precise than standard X-ray radiation, oncologists are able to deposit powerful and precise doses of proton radiation directly into the ocular melanoma without further need for surgical eye removal. Treatment is highly effective in preserving vision and reducing unnecessary damage to surrounding healthy tissue in the eyes and head.
To find out if you might benefit from proton therapy, call us to schedule a consultation. Our radiation oncologists are dedicated to finding a course of treatment that is right for you.
Melanoma of the Eye Treatment FAQs
> What is proton therapy?
Proton therapy is a safe and non-invasive form of radiation treatment that effectively targets tumors using protons—positively charged atomic particles—instead of the photons used in standard X-ray radiation. With proton therapy, doctors can precisely attack cancer cells while minimizing damage to the surrounding healthy tissue. As opposed to conventional radiation, protons deposit most of their radiation into the tumor and then stop, which greatly reduces the risk of unnecessary side effects as well as excess radiation exposure to nearby critical structures and organs.
Both during and after treatment, proton therapy patients are able to maintain their quality of life, with many continuing to partake in their normal, daily activities.
> What are the benefits of proton therapy treatment compared to standard radiation therapy for melanoma of the eye?
Proton therapy and X-ray radiation therapy both treat melanoma of the eye by killing cancer cells when they attempt to divide and multiply. However, there is an important difference. X-ray radiation releases its maximum dose of radiation quickly after penetrating the body, and continues to release radiation as it passes through the body beyond the tumor, exposing surrounding eye tissue to unwanted radiation. This can cause more damage to healthy tissue and organs like the brain, retina, optic nerve, and other critical eye structures. Vision loss in the affected eye is also much more likely when using conventional radiation treatment. Proton therapy offers greater control of the radiation dose leading to better eye preservation, and patients are usually able to retain vision in the affected eye. The treatment delivers most of the radiation exactly at the tumor site and then stops. There is essentially no radiation exposure beyond the tumor site once the radiation has reached and covered the treatment area.
Talk To Us
Find out if proton therapy is the right treatment for you. Contact our Care Team or request more information online.
Attend An Information Session
Learn more about proton therapy and our world-class Care Team. Contact the center to reserve your place.