Prostate Cancer
Find Your Answer Here
search

Request a consultation about Proton Therapy Cancer treatment
To learn more about proton therapy or to schedule a consult, please fill out the form below and someone will contact you to answer your questions.
Proton Therapy for Prostate Cancer
Target Prostate Cancer. Maintain Quality of Life.
One of the most advanced forms of radiation therapy, proton therapy is a highly effective treatment for prostate cancer with a much lower risk of short and long-term side effects.
With the cutting-edge science of proton therapy, doctors can precisely target the tumor while minimizing damage to surrounding healthy tissue and organs. Unlike standard X-ray radiation, which relies on photons to reach cancer cells, protons deposit their radiation directly into the tumor and then stop. With no exit dose, radiation exposure is reduced with proton therapy and patients are able to maintain their quality of life both during and after treatment.
Treating Prostate Cancer with Proton Therapy
With millimeter precision, proton therapy delivers radiation directly into the tumor. Radiation exposure to surrounding healthy tissues and organs, such as the bladder, rectum, and bowel, is drastically minimized, resulting in a much lower risk of side effects.
In most cases, patients can go about their normal routine before and after each treatment. By minimizing excess radiation to unaffected areas, the likelihood of debilitating side effects like gastrointestinal issues, incontinence, and impotence, is significantly reduced. Clinical studies show that proton therapy, when compared to X-ray based treatments including Cyberknife, results in up to 60% less radiation to the rectum, bladder, penile bulb, and bowel.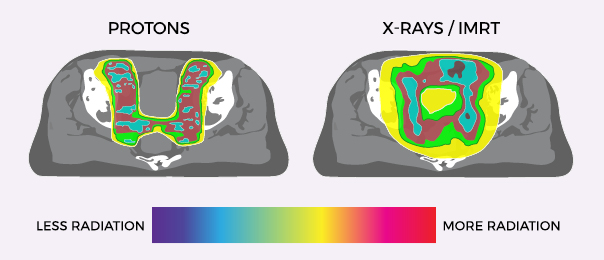 Proton Therapy vs X-Ray/IMRT for Prostate Cancer
Proton therapy delivers significantly less radiation to the bladder and rectum than X-ray radiation. These images show the areas around the prostate exposed to radiation during treatment. Where standard X-ray treatment releases radiation from the moment it penetrates the skin and all the way through to the other side of the tumor, proton therapy deposits radiation directly into the tumor without exiting through surrounding healthy issue.
Pencil Beam Scanning
At ProCure, we use the most precise form of proton therapy to treat prostate cancer. Pencil Beam Scanning precisely controls protons to place the Bragg Peak, the point at which protons deposit their maximum energy, directly into the tumor. The ultra precision of this technology makes it an ideal treatment for tumors of the prostate, including irregularly shaped or complex tumors located next to critical tissues and organs.
In addition, we also offer SpaceOar Hydrogel, a temporary injectable gel that acts as a spacer to protect the rectum in men undergoing radiation therapy for prostate cancer. Hydrogel with pencil beam scanning radically reduces the radiation dose to the rectum, almost eliminating all high doses to the rectum which can cause side effects.
Proven Effectiveness
An FDA-approved treatment, there is much clinical data that proves Proton Therapy's effectiveness for prostate cancer treatment. According to a study from the University of Florida Health Proton Therapy Institute, 99 percent of men with early and intermediate prostate cancer and 76 percent of men with advanced prostate cancer are cancer-free five years after proton therapy.1 In a Massachusetts General Hospital Phase III study of 393 patients with early, intermediate, and advanced stages of prostate cancer, 91.3 percent of patients were cancer-free at five years when treated with high doses of proton therapy.1,2
Benefits of Proton Therapy for Prostate Cancer
Precisely targets the tumor, maximizing the dose to cancer cells
No exit dose results in lower radiation exposure to surrounding healthy tissue and critical organs, including the bladder, rectum, and bowel
Lower risk of side effects, such as incontinence and impotence, and better protection of urinary, bowel, and erectile
Pencil Beam Scanning offers the highest precision targeting for complex cases, especially for large prostates or when regional lymph nodes need to be treated
Patients can maintain quality of life during and after treatment
Effective option for recurrent cancers in patients who previously received radiation therapy or prostatectomy
Reduced odds of secondary cancers in the rectum and bladder
FDA approved treatment
Is Proton Therapy Right for Me?
Most men with prostate cancer are good candidates for proton therapy. At ProCure, we treat:
Non-metastatic prostate cancer in all risk groups (Stage I – IV)
Recurrent prostate cancer
Residual prostate cancer after surgery
If you and your doctor are interested in proton therapy as a treatment option, we can schedule a consultation for you to speak with one of our radiation oncologists. During the consultation, we will work with you to determine if you are likely to benefit from proton therapy. Our radiation oncologists use all forms of radiation to treat prostate cancer, and will provide an unbiased treatment recommendation that is best for you.
Prostate Cancer Treatment FAQ's
Trials are currently being conducted for prostate cancer at ProCure, including:
A study to determine if prostate cancer patients treated with proton therapy as compared to intensity-modulated radiation therapy (IMRT) experience improved Quality of Life (QOL).
A study for men who have been diagnosed with Stage 1 or 2 prostate cancer that compares two types of radiation therapy: intensity-modulated radiation therapy (IMRT) and proton beam therapy (PBT). It seeks to determine if proton therapy results in fewer side effects on bowel, urinary and erectile function. This study is being led by investigators at the Harvard Cancer Center and is sponsored by the National Cancer Institute.
A registry that will enroll men who are eligible for but decline enrollment and randomization in the above trial. The overall goal of the Registry is to assess the representativeness and generalizability of the randomized clinical trial findings to a broader spectrum of eligible patients.
Please visit Clinical Trials for more information.
Prostate Cancer Facts
Each year, more than 220,000 men are diagnosed with prostate cancer in the United States. In fact, other than skin cancer, prostate cancer is the most commonly diagnosed cancer among men. The good news is that prostate cancer is also one of the most treatable, especially if detected early.
Early prostate cancer often shows no signs and the vast majority of diagnosed prostate cancer cases are the result of PSA screening. In patients who do not undergo screening, prostate cancer can progress and eventually lead to symptoms that include:13,14,15
Urinary problems
Blood in the urine or semen
Erectile dysfunction
Fatigue
Pain in the hips, back, chest, or other areas
Weakness or numbness in the legs or feet
Loss of bladder or bowel control
Conditions other than prostate cancer can cause many of these same symptoms. If you experience any of these, be sure to see your physician.
Research shows various factors affect the risk of developing prostate cancer. The following have been identified as possible contributors:
Age – Over 40, with the chances increasing significantly after the age 50. In fact, 60 percent of prostate cancer cases are found in men over the age of 65.
Race/ethnicity – African-American men and Caribbean men of African ancestry have an increased risk of developing prostate cancer.
Family history – Having a father or brother with prostate cancer significantly increases a man's risk of developing this disease.
Obesity – Some studies have found that obese men have a lower risk of getting a low-grade (less dangerous) form of the disease, but a higher risk of getting more aggressive prostate cancer.
High testosterone levels – High concentrations of testosterone that cause prostate abnormalities may elevate a man's risk of developing prostate cancer.
While one in six U.S. men will be diagnosed in their lifetime, prostate cancer remains one of the most treatable and curable cancers, especially if caught early. Yet unlike other forms of cancer, prostate cancer usually has no symptoms. By the time symptoms do appear, it may have spread and is harder to treat, which is why early detection is so important.
Two common tests used to screen men are the prostate-specific antigen (PSA) test, which measures the amount of PSA in a man's blood, and the digital rectal exam (DRE), which is a routine exam during which your doctor inserts a gloved, lubricated finger into the rectum to feel the prostate for any hard, lumpy, or abnormal areas.
The American Cancer Society recommends that men make informed decisions about having prostate cancer screening tests based on available information, discussion with their doctor, and their own views on the benefits and side effects of prostate cancer screening and treatment.
If the results of either one of these tests are abnormal, your physician will recommend additional testing to determine if cancer exists. Often, testing will include imaging exams, such as an MRI, CT scan, ultrasound, and a biopsy.
If cancer is diagnosed, your physician will use information from the pathologist and the TNM staging system to determine the stage of your disease. The TNM system considers:
T: the size and extent of the tumor
N: whether and how far the cancer has spread to the lymph nodes
M: whether the cancer has metastasized (spread) to other organs in the body
Your physician will use the stage of your disease and other information about your age and health to determine the best treatment plan for you.
PSA Test:
What is a PSA Test?
A PSA test is a simple blood test that detects elevated levels of prostate-specific antigen (PSA), which may indicate the presence of prostate cancer. Treating prostate cancer is easier and more effective when diagnosed early, and the PSA test is the best method for early detection.
Should I have my PSA level checked?
Because early prostate cancer may not have symptoms, a PSA test is the best method of early detection. Naturally, your age, family history, and overall health are considerations regarding whether to get a PSA test. While not all men should have their PSAs checked, men ages 55-69 with a higher risk of prostate cancer do benefit from PSA testing. Speak with your doctor to see if a PSA test is appropriate for you.
Who should get a PSA test?
Based on guidelines developed by the American Urological Association (AUA), PSA testing is recommended for men aged 55-69.16 Men with higher risk factors, such as a family history of prostate cancer, will also benefit from a PSA test.16 Talk to your doctor about the pros and cons of PSA testing before making a decision. For the complete guidelines on PSA testing, visit the AUA website.
How often should I get a PSA test?
The AUA recommends testing intervals of two years rather than annual testing. This decision, made with your doctor, gives you the majority of the benefits while reducing over-diagnosis and false positives.16
While it is true that routine PSA screening for healthy men aged 55-69 can reduce the chance of dying from prostate cancer by 20% or more,17 your decision should be based on your individual situation.
Is a PSA test covered by insurance?
Currently, Medicare provides coverage for an annual PSA test for all Medicare-eligible men age 50 and older. Many private insurers cover PSA testing as well.
What does an elevated PSA level mean?
The higher your PSA level, the more likely it is that you have prostate cancer. However, sometimes the PSA level may be elevated for reasons other than cancer and no action is necessary. A biopsy may be the next step, depending on your individual case and your doctor's recommendation. If you have an elevated PSA level, the next step is to talk with your doctor.
Is a Biopsy necessary?
While biopsies may occasionally result in complications, such as infection, they are often used in conjunction with PSA testing to accurately diagnose a cancer that may be "silent" (symptom-free). Ask your doctor for more information.
Gleason Score:
What is a Gleason score?
A Gleason score represents the results from a prostate biopsy. A biopsy removes small samples of prostate tissue so that they can be examined under a microscope for evidence of cancer. A pathologist will usually assign the biopsy results a Gleason score after examination.
What does my Gleason score mean?
A low Gleason score means the cancer tissue is similar to normal prostate tissue and the tumor is less likely to spread; a high Gleason score means the cancer tissue is very different from normal and the tumor is more likely to spread.18
GX: Gleason score cannot be determined
G2–G6: The tumor tissue is well-differentiated, less aggressive and likely to grow more slowly
G7: The tumor tissue is moderately differentiated, moderately aggressive and likely to grow but may not spread quickly
G8–G10: The tumor tissue is poorly differentiated or undifferentiated, more aggressive and likely to grow faster and spread
For additional information, please see the references16,17,18 and consult your doctor. If you've already been diagnosed with prostate cancer, please contact us for more information on proton therapy. We're ready to help.
Find out if proton therapy is the right treatment for you. Contact our Care Team or request more information online.
Learn more about proton therapy and our world-class Care Team. Contact the center to reserve your place.